Surf Boat racing
Novices are welcome to come and try every the surf boats each Friday. However, on race weeks they might only get a short row at the start - or they may end up in a race - depending on numbers. Likewise, we always need a couple of experienced rowers to come down and help out with the novices
The dates, based on tides, are as follows:
Come and Try/Social Rowing: October 25th, November 8th, November 22nd and December 6th 
Races (with a novice warm up session): October 11th, October 18th, November 1st, November 15th, November 29th and December 13th.
Club Christmas Party
Friday 22nd November, from 5.00pm
Come and join celebrate another terrific season with other club members at the Christmas party.  Santa will drop in for a visit and there will be an inflatable Crocodile slip and slide for the kids (and adults) to have a go on.
See you there!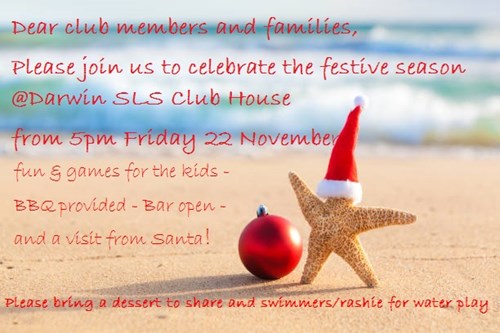 Darwin's 16th Fannie Bay Swim Classic
10am 28th June 2020
Darwin's Fannie Bay Swim Classic is the only open water ocean swim in Darwin and provides a social and community occasion that is focused on the healthy sport of swimming. A major focus of the day is to encourage awareness that swimming is a lifelong sport and exercise, participation and competition is available for all age groups. In 2018 there were over 150 competitors, this is Darwin SLSC largest fundraising event of the year.

Entrants can choose from a 1.2km or 2.1km course from East Point to the Trailer Boat Club. Minimum age 13yo