Nippers & Cadets
The Junior Surf Lifesaving Program season runs Sunday mornings at Casuarina beach from 9-11am from June to September. During the Wet season, extra training takes place at Lake Alexander and Darwin Waterfront.
Nippers for children 5 to 13 provides activities and learning opportunities in a safe, fun and friendly environment. Cadets are 13-15 years of age and are able to train to complete the Surf Rescue Certificate (SRC) the first step to be a patrolling Surf Lifesaver.                                     
The focus in the DSLSC is on instilling the children with
the necessary skills, confidence and knowledge to enjoy the beach environment safely.    
various activities associated with Surf Lifesaving as well as developing fitness, surf awareness and teamwork.                                                                                                                
Activities all conducted in a fun, friendly and safe environment include
beach sprints and flags
surf swimming
board paddling
From 15 years old you are eligible to train for your Bronze Medallion and commence patrolling.
With this qualification there are additional opportunities for competition and other awards i.e. IRB Driver, Jet ski operator etc.
There are many ways in which you can get involved from being an active patrol member saving lives on the beach, to being an Age Manager for the nippers, Board member (administration) or other behind the scenes activities that ensure everything runs smoothly.  
DSLSC caters for all levels of skill and experience if you are 5 or 95 there is something that will suit you.                                                                                                                                                                                
Surf Life Saving exists to save lives, create great Australians and build better communities        
Age for a season is determined as at 30th September at the commencement of that season.
Children MUST be 5 years of age to be registered and permitted to participate in any SLS activities. A child's age group for the season is their age as at midnight 30th September. This is also their competitive age if participating at interclub carnivals and junior state championships.  The U8 age group and above are eligible to compete at interclub and state carnivals.
For example, John turned 9 on the 28th August this year – John is therefore registered as an Under 10.  Emma turned 9 on the 2nd October this year – Emma is therefore registered as an Under 9.  
There is minimum swimming proficiency standards that all participants must achieve for their age group to participate in Nippers and Cadets.  Please click on the below link to see the standards.  There will be opportunities for participants to be tested on their swim proficiency during the March/April training dates.  Or participants can have their swim proficiency signed off by a qualified swim teacher or swim coach using the below form.
Nippers Swim Skills and Competition Skill requirements
Nippers Swim Skills Evaluation form - for swim teacher or coach to complete
Nippers Training Calendar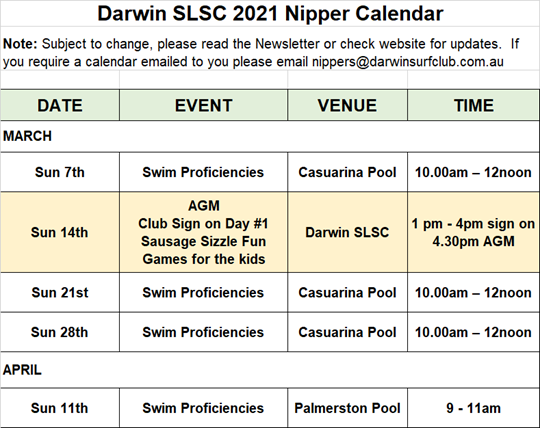 Further dates will be added soon.  Expect that there will be training at Casuarina Beach most Sunday mornings through June, July and August from 8.45am - 11am. Training in September will be at various locations around Darwin.
If needed, please contact darwinslsc@darwinsurfclub.com.au with any questions you have or call 0459 837 578.