McArthur River Mining Darwin Ocean Swim
Sunday 11th August 2024
The Darwin Ocean Swim is returning 11th of August 2024 to the beautiful Casuarina Beach.
Darwin Surf Life Saving Club invite all swimmers to take the plunge and experience an open water race like no other, competitors will swim in warm tropical waters at the Top End of Australia. Whilst taking in the stunning views of the Dripstone Cliffs at sunrise as they swim by.
Long Course: 2.1km
Short Course: 1.2km
More details to come!
Race Information
Start line
Swimmers to make their own way to the start line after registrations.
A map will be provided at compulsory safety/race briefing to assist and course officials will be on course to assist.
Clothing/personal items
There will be a container available for shoes/thongs to go from the two start lines to the finish line at Darwin Surf Life Saving Club.
Please secure your own valuables. Club volunteers will take utmost care of swimmers gear but takes no responsibility for lost items in the transfer process.

Event Rules
Open category
No swimmer in open categories (ALL categories other than FUN) shall be permitted to use or wear any device which may be an aid in their speed, endurance or buoyancy. 
An approved swimsuit, goggles, a maximum of 2 swim caps, nose peg and ear plugs may be used.
Swimming cap provided at sign-on must be work at all times whilst in the water.
Fun category
This is a fun event where swimmers can use fins, snorkels, wetsuits, pull buoys. 
This category is not eligible for medals/awards/presentations.
You can wear whatever swimsuit you desire if you register for the FUN Category only.
Swimming cap provided at sign-on must be work at all times whilst in the water.
2022 Results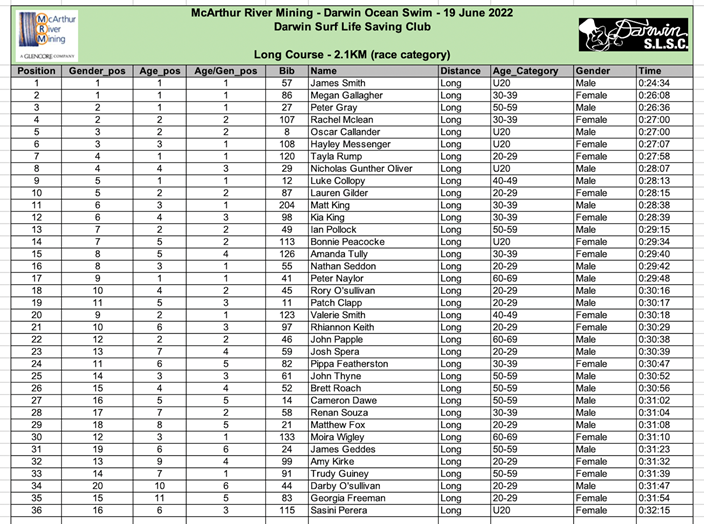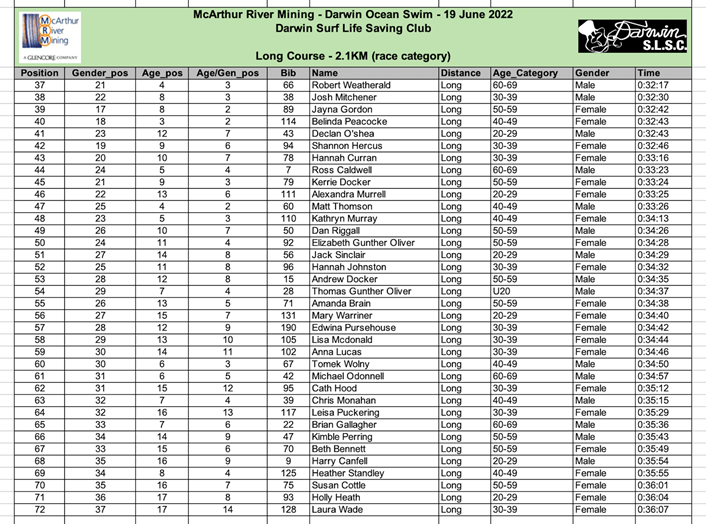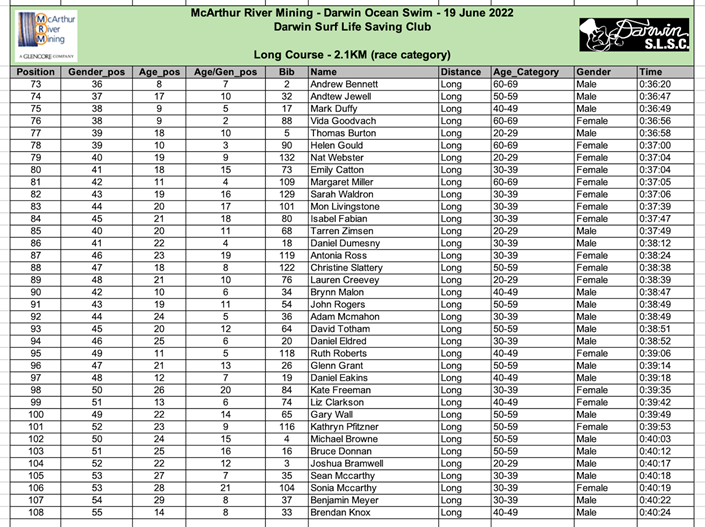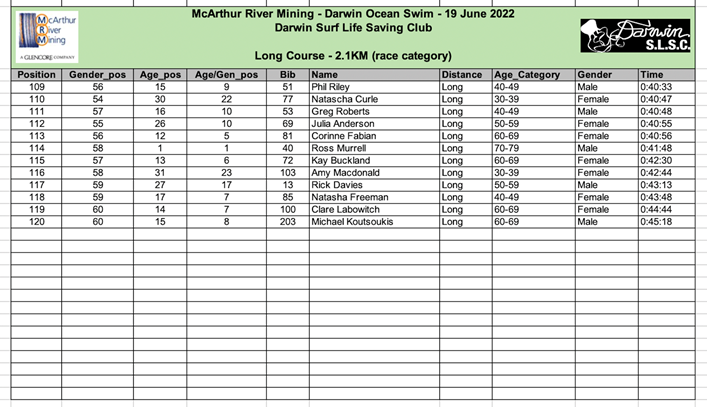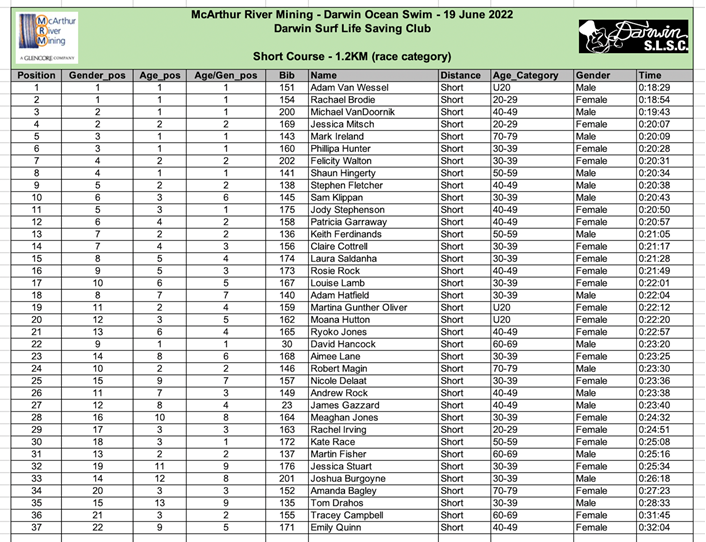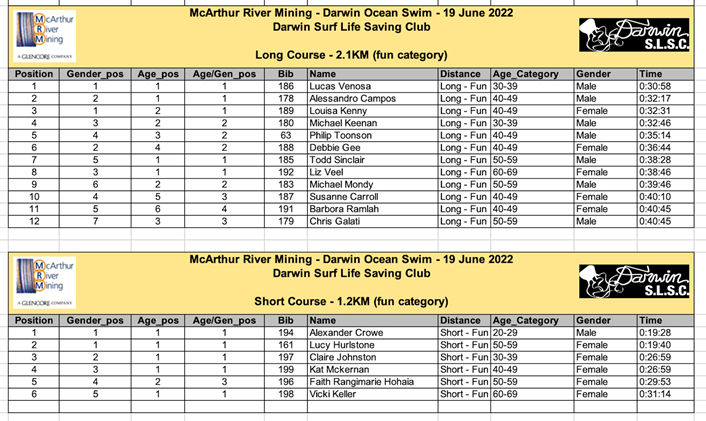 The club has a number of terrific sponsors who contribute to the club each year through their support of this event we thank them for all their support!

RESULTS 2021
Congratulations and thank you to all the participants who supported the event and the club this year.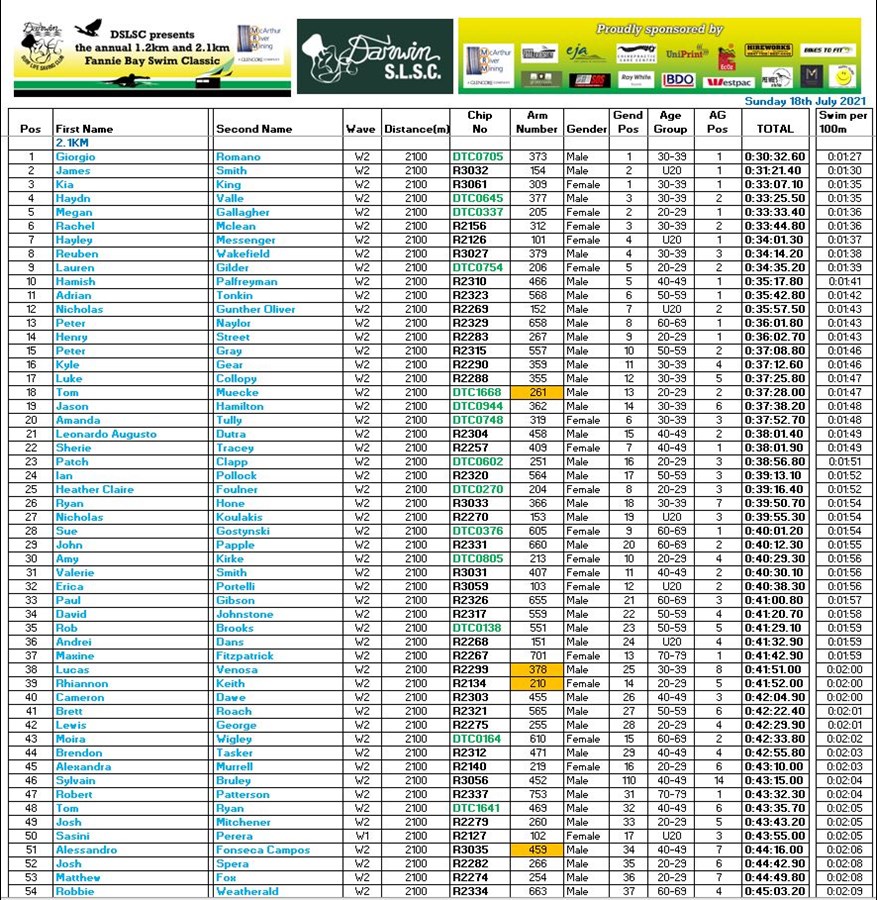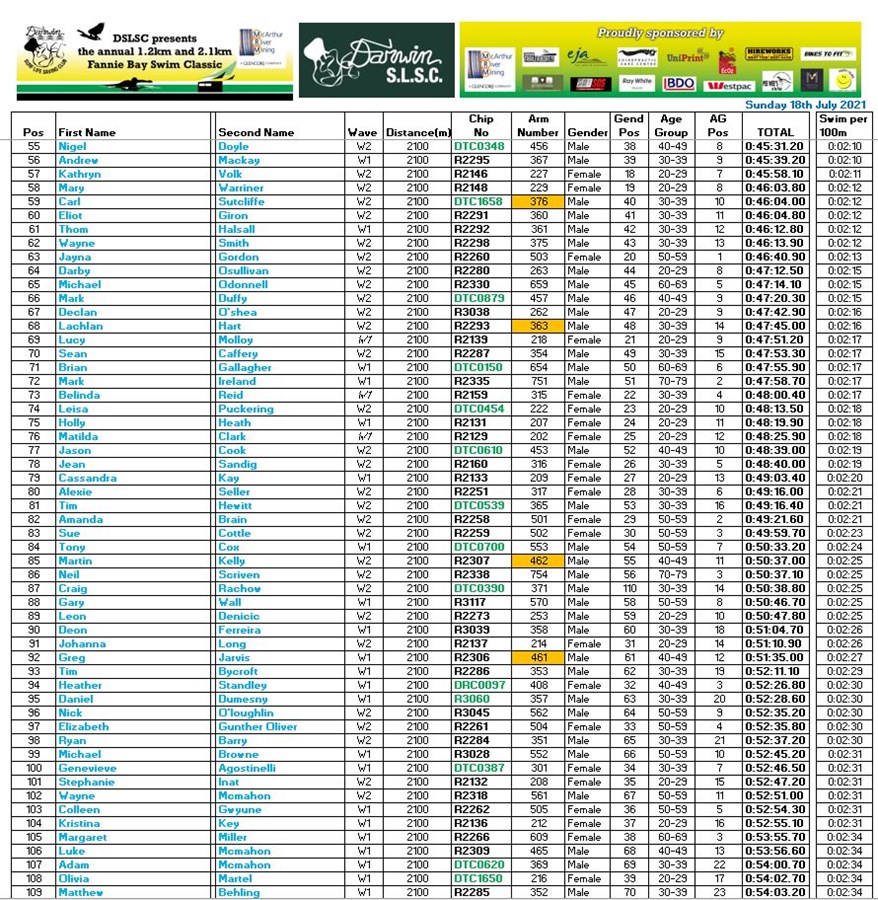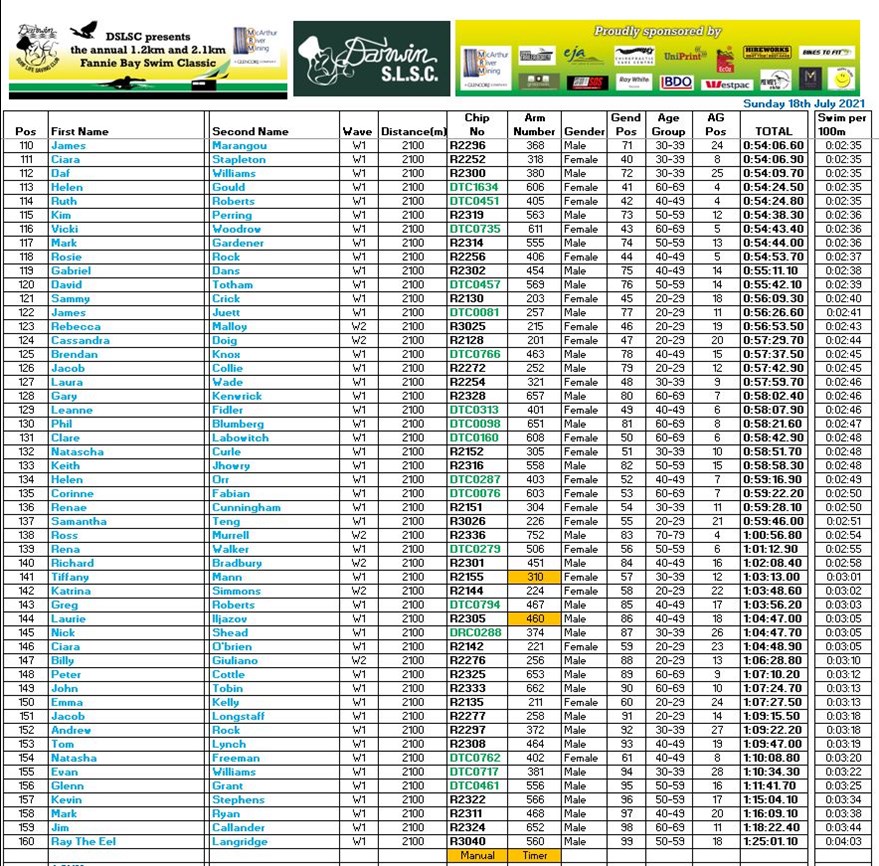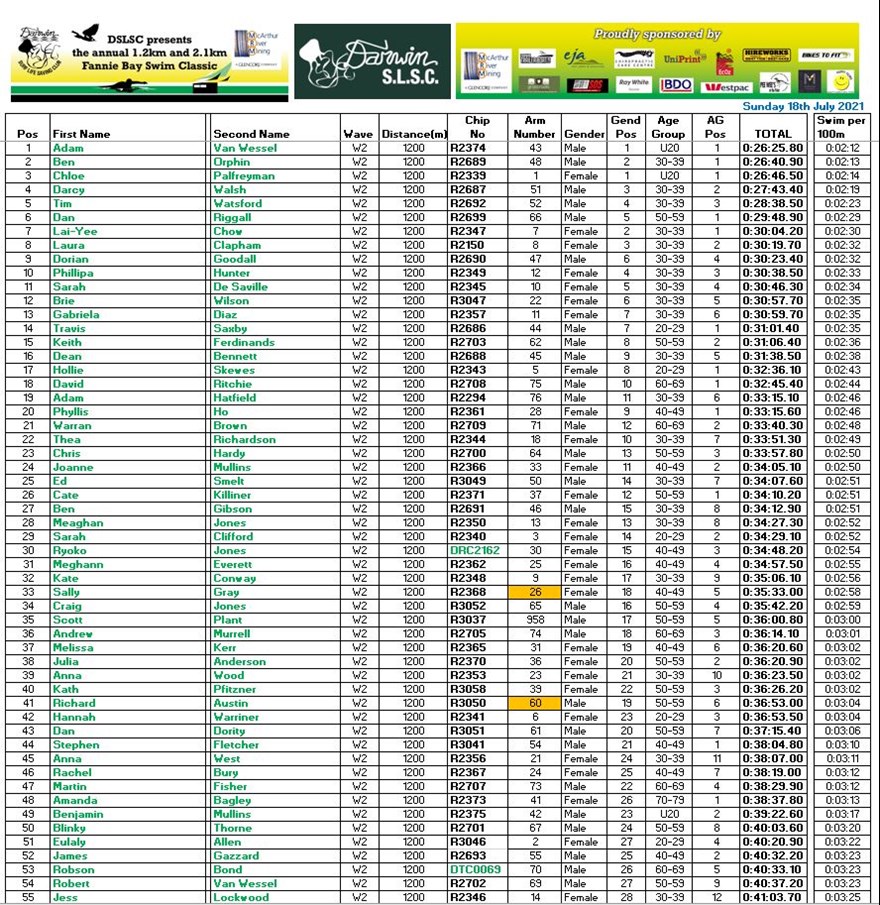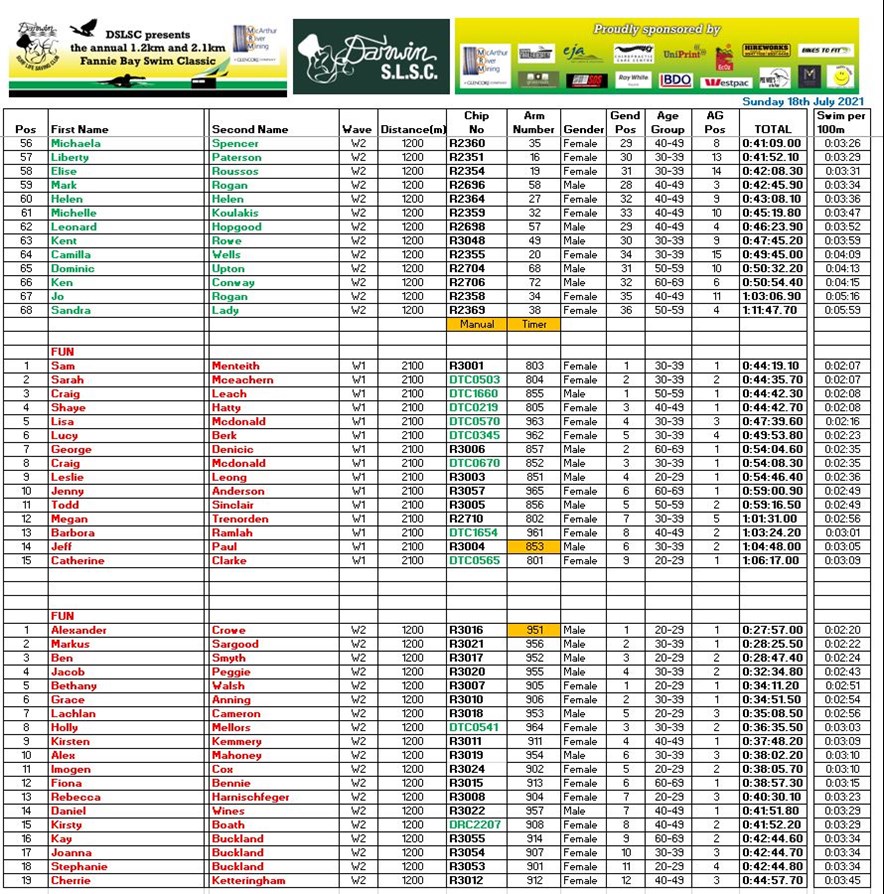 2021 photos can be found on the Darwin SLSC facebook page.  Click here                                                                  
ALL LONG COURSE Results 2005 - 2019